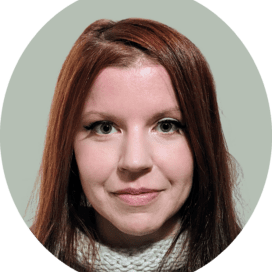 About Emily Grochowski
Emily Grochowski is a scientist turned Functional Registered Dietitian Nutritionist who utilizes a highly personalized, evidence-based, root-cause-focused approach to nutrition and lifestyle medicine. After earning a Bachelor of Science in molecular biology from UW-Madison and working for several years in research and biotechnology labs, she realized her true passion lay in leveraging science to help people more directly, and thus began to pursue a career in nutritional medicine.
She completed her Master of Science in nutrition at Bastyr University and her Dietetic Internship through Lehman College, working with the many diverse communities throughout the five boroughs of New York City. After returning to the Seattle area, she deepened and widened her knowledge of functional medicine and functional nutrition by working with a wide variety of patients with complex concerns in a private practice clinic and through consistent continuing professional education through organizations like the Institute of Functional Medicine, Next Level Functional Nutrition, and Cogence Functional Immunology.
As a clinician, she not only deeply values learning and the scientific aspects of medicine, but also the education and empowerment of her patients with the knowledge and skills they want and need to achieve their specific health goals and life-long wellness. She also prioritizes taking the time to listen to and learn about her patients to cultivate strong therapeutic relationships and provide the most dynamic, practical, and holistic guidance and support possible. She has also found that working collaboratively with patients and coordinating with the rest of their care team is critical to providing the highest quality, cohesive care.
Emily is especially well versed in helping people to rebalance complex cardio-metabolic, immune, gastrointestinal, and neuroendocrine concerns, and would be honored to help you harness the vast healing power of food and lifestyle medicine to support you in achieving your unique health and wellness goals.
Education
Advanced Functional and Integrative Nutritionist Candidate, Next Level Functional Nutrition
Institute of Functional Medicine Certified Practitioner Candidate 
FBCA Mastery Certification Training Candidate, Optimal DX Academy
Cogence Functional Immunology Coursework, 2022  
Certified Functional and Integrative Nutritionist/CFIN, Next Level Functional Nutrition, 2021
Certified LEAP Therapist, Oxford Biomedical, 2018
Lehman College Dietetic Internship, Lehman College, Bronx, NY, 2016
Master of Science in Nutrition/Didactic Program in Dietetics, Bastyr University, Kenmore, WA, 2015
200-hour Certified Yoga Teacher, Feel Your Best Yoga, Mequon, WI, 2010
Bachelor of Science in Molecular Biology, University of Wisconsin-Madison, Madison, WI, 2005
Types of Patients
People with all gender expressions and ages
Professional Memberships
American Nutrition Association

Academy of Nutrition and Dietetics

Dietitians in Integrative and Functional Medicine Practice Group
Research Dietetics Practice Group 
Food Equity Partnership for A Healthier America
Institute of Functional Medicine
Next Level Functional Nutrition
Seattle Department of Neighborhoods Food Equity Fund
Sound Functional Medicine and Nutrition Group
Why Hunger
Yoga Alliance